New Edition Humbly Accepts Lifetime Achievement Award
Boston born 80's sensation, New Edition won their Lifetime Achievement Award at the 2017 BET Awards, Sunday.
After 35 years of standing the rain together, the group was introduced by the cast of the new movie,
Girls Trip
Jada Pinkett Smith, Queen Latifah, Regina Hall, and Tiffany Haddish who all expressed their gratitude for the many years of music that we all can relate to.
A video showcasing their journey from the beginning to current times, acted as a refresher as well as a preface for the group's acceptance speeches.
Although the group was already aware that they'd receive the award, they still expressed much gratitude. They made sure to thank all of those that have played a significant role in their success, including their Lord and Savior Jesus Christ, fans, producers and managers alike, as well as family. A major theme in the speeches, was making sure that their fans knew they were grateful for their loyalty through the ups and downs of their career.
Included in their tribute, were individual performances by the cast of The New Edition Story: Bryshere Y. Gray (Michael Bivins), Elijah Kelley ( Ricardo Bell), Luke James (Johnny Gill), Woody McClain (Bobby Brown), Keith Powers (Ronnie DeVoe), and Algee Smith (Ralph Tresvant). The biopic was created to outline and showcase the journey of the music group.
The child cast performed Candy Girl, Luke performed My, My, My by Johnny Gill, and Woody performed My Prerogative by Bobby Brown. Bryshere, Keith, and Elijah performed Poison by Bell Biv DeVoe.
The original New Edition, Bobby Brown, Ralph Tresvant, Ronnie DeVoe, Michael Bivins, Ricky Bell, and Johnny Gill performed crowd favorites
Mr. Telephone Man
and
Can You Stand the Rain
immediately after the dedications and acceptance speeches.
Shortly after this sequence, the cast of the biopic joined New Edition on stage to perform another crowd favorite,
If It Isn't Love
.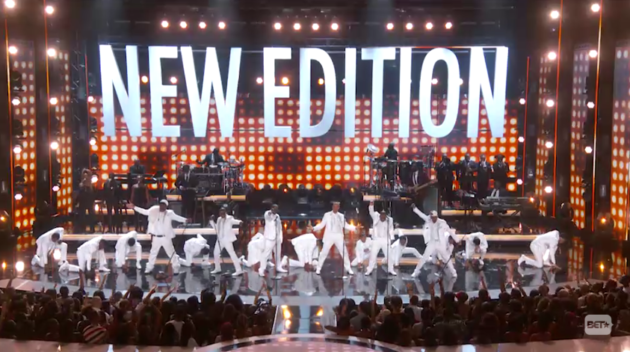 ~ Ashley Lambert
Tags :