British Vogue Editor Gets Fired; Comes Out With Tea
Anyone who's ever read a magazine, knows that editors play a huge role in making sure everything you read exceeds perfection. Well, Lucinda Chambers played that role for over thirty years-that is until she abruptly got fired from
British Vogue.
Lucinda got fired a month and a half ago, by a new editor named Edward Enninful. Lucinda had a long tenure at the magazine, a total of 36 years. For 25 of those years, she served as the magazine's fashion editor. No one was aware that the termination was going to take place except for the new editor, of course. An interview with Vestoj had taken place, but was removed from site shortly after its release. The interview was then republished on the website with an editor's note pertaining to the sensitive material displayed.
According to Lucinda, the termination took no more than 3-minutes to do. Lucinda stated that, "Afterwards I walked out and ran into the publisher. 'Oh Lucinda! How are you?' I told him I'd just been fired. He said, 'Outrageous! Ridiculous! Crazy!' I phoned my lawyer; she asked me what I wanted to do about it. I told her I wanted to write a letter to my colleagues to tell them that Edward Enninful decided to let me go. And to say how proud I am to have worked at
Vogue
for as long as I did, to thank them for being such brilliant colleagues. My lawyer said sure, but don't tell HR. They wouldn't have wanted me to send it."
Considering the abrupt and unfortunate circumstances that Chambers were placed under, she obviously had a few choice words to say. Who wouldn't after having tenure at a job such as hers? While she was having lunch with a friend later in the day who had also just been fired from Sotheby's, she made it clear that she didn't want to save face. " I don't want to be the person who puts on a brave face and tells everyone, 'Oh, I decided to leave the company,' when everyone knows you were really fired. There's too much smoke and mirrors in the industry as it is. And anyway, I didn't leave. I was fired." Lucinda then went on to say that, "Fashion can chew you up and spit you out", while speaking with the interviewer at Vestoj.
After reflecting on working with Paulo Melim Andersson, she noted that failing isn't an option in this particular field of work. "You aren't allowed to fail in fashion-especially in this age of social media, when everything is about leading a successful, amazing life. Nobody today is allowed to fail, instead the prospect causes anxiety and terror. But why can't we celebrate failure? After all, it helps us grow and develop".
Lucinda alluded to the fact that people will take you at face value in the industry, and that it's literally all about how you present yourself. "In fashion people take you on your own estimation of yourself-that's just a given. You can walk into a room feeling pumped up and confident, and if you radiate that, the industry will believe in what you project. If, on the other hand, you appear vulnerable you won't be seen as a winner".
Shortly after that segment of the interview, Chambers revealed that the most authentic company she'd ever worked for is Marni. "We didn't advertise, and what we showed on the catwalk we always produced. We never wanted to be 'in fashion'. If you bought a skirt twenty years ago, you can still wear it today. We never changed the goalposts. Our shows were about empowering women. We always treated our models beautifully and had incredible diversity in the company: my team was half boys, half girls, all different nationalities. It was very transparent, but when the company was sold everything changed".
Upon ending the interview, Chambers revealed that "there are very few fashion magazines that make you feel empowered. Most leave you totally anxiety-ridden, for not having the right kind of dinner party, setting the table in the right kind of way, or meeting the right kind of people".
Immediately after, she casually dropped an atomic bomb. "Truth be told, I haven't read Vogue in years. Maybe I was too close to it after working there for so long, but I never felt I led a Vogue-y kind of life. The clothes are just irrelevant for most people-ridiculously expensive. What magazines want today is the latest, the exclusive. It's a shame that magazines have lost the authority they once had. They've stopped being useful. In fashion we are always trying to make people buy something they don't need. We don't need any more bags, shirts, or shoes. So we cajole, bully or encourage people into buying".
Lucinda Chambers' last piece of input was "I know glossy magazines are meant to be aspirational, but why not be both useful an aspirational? That's the kind of fashion magazine I'd like to see". Lucinda is fifty-seven years old.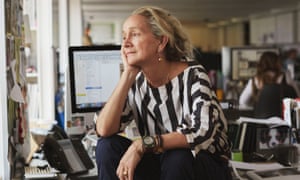 ~Ashley Lambert
Tags :